Environment
Nhat Tin provides two separate environments for integration:
Sandbox: Used for building features, testing, debugging, etc.
Production: Used for end-users.
Integration Information
Nhat Tin provides corresponding codes for each environment.
username: Nhat Tin provide by email
password: Nhat Tin provide by email
Note that these information should not be disclosed to anyone.
Configuration
Master Data
1. Service (service_id)
| ID | Service Name (OLD) |
| --- | --- |
| 10 | Express Delivery |
| 11 | Premium Service |
| 20 | Road Transportation |
| 21 | Mixed Express |
| ID | Service Name (NEW - 01/07/2023) |
| --- | --- |
| 90 | Express Delivery |
| 81 | Premium Service |
| 91 | Economic |
2. Payment Method (payment_method)
| ID | Payment Method |
| --- | --- |
| 10 | Sender pay by Cash when pick up / walk-in payment |
| 11 | Payment by Sender according to contract |
| 20 | Receiver pay by Cash when delivery |
3. Cargo Type (cargo_type_id)
| ID | Cargo Type |
| --- | --- |
| 1 | Documents |
| 2 | Goods |
| 3 | Cold goods |
| 4 | Biological products |
| 5 | Specimens |
4. Status (status_id)
| Status ID | Status Code | Description |
| --- | --- | --- |
| 1 | Waiting | Unsuccessful |
| 2 | Waiting | Waiting for pick-up |
| 3 | KCB | Picked up |
| 4 | FBC | Delivered |
| 6 | GBV | Canceled |
| 7 | FUD | Could not deliver |
| 9 | NRT | Being returned |
| 10 | MRC | Returned |
| 11 | QIU | Delivery exception |
| 12 | DRF | Draft bill of lading |
| 13 | DEL | Delivering |
| 15 | | Transporting |
| 16 | | Delivering for returning |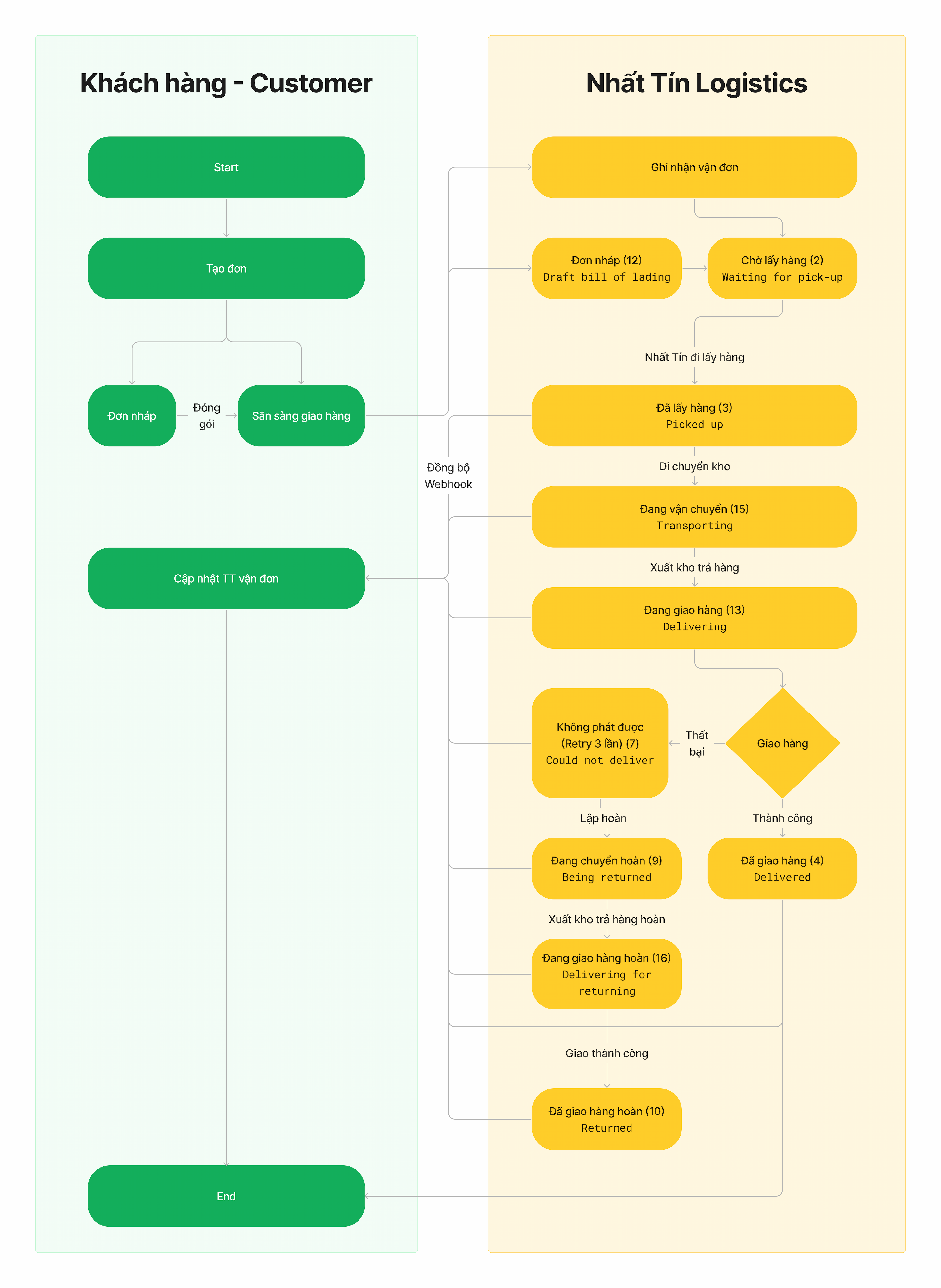 Update History
| Version | Author | Desc | Date update |
| --- | --- | --- | --- |
| 1.0.4 | KhoaNT | Change fulladdress from sender | 10/07/2021 |
| 1.0.5 | KhoaNT | Add calculate fee api | 23/07/2021 |
| 1.0.6 | KhoaNT | Add email receiver | 28/05/2022 |
| 1.0.7 | KhoaNT | Edit request webhook | 26/08/2022 |
| 1.0.7 | KhoaNT | Add connect to NTL | 26/08/2022 |
| 1.0.7 | KhoaNT | Add params create bill : is_return_doc | 26/08/2022 |
| 1.0.8 | KhoaNT | Add params partner_id in Print Waybill | 01/12/2022 |
| 1.0.9 | KhoaNT | Add new api for update shipping info | 02/12/2022 |
| 1.0.10 | KhoaNT | Add new params response when tracking : p_link_image | 24/02/2023 |
| 1.0.11 | KhoaNT | Add new shipping version 2 | 29/03/2023 |
| 1.0.12 | KhoaNT | Update new service list | 01/07/2023 |
| 1.0.13 | KhoaNT | Add new status (15,16) | 28/07/2023 |
API List
| API List | |
| --- | --- |
| 1. Create a Shipping v2 | On April 10, 2023, V2 was used. |
| 2. Update Shipping | |
| 3. Cancel Shipping | |
| 4. Calculate Price | |
| 5. Tracking Shipping | |
| 6. Webhook | |
| 7. Print bill | |
| 8. Login - connect to NTL | Use for ecommerce/POS platforms |
| 9. Create a Shipping By ID | This API has been removed, and only supports old customers. |